First Grade finished their unit on Water today with a special guest!
Dr. Faucet, from Tucson Water, came to Carden with a cart full of fun activities. She told stories of the water cycle, did an experiment with the students, showed a fun video on conservation, and taught the First Graders more about conservation through hands-on activities and pictures. We had a blast! Tucson Water has presented their Da Drops Program at Carden for many years now and we can't get enough! It was a great way for us to reinforce the water cycle and about water in our desert home.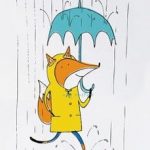 Please enjoy the pictures and the fun little videos I captured during Da Drops.
Please note that this YouTube video can only be seen and shared by its link. You will not be able to find it on YouTube.